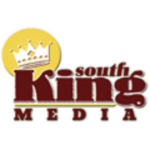 South King Media is a local, independent, family-run media business that serves up award-winning hyperlocal news, events, politics, arts, entertainment, film, videos & more to a large area south of Seattle, WA.
South King Media was founded in 2007 by Scott Schaefer, a veteran, multiple award-winning TV Writer/Director/Producer and three-time National Emmy Award winner for "Bill Nye the Science Guy." Schaefer first started The B-Town Blog as a hobby, and it soon exploded into a business due to the lack of proper coverage by the local newspaper.
Scott and his wife Theresa – who have lived in the area since 1995 – manage the company.
Awarded 2023 "Business of the Year"!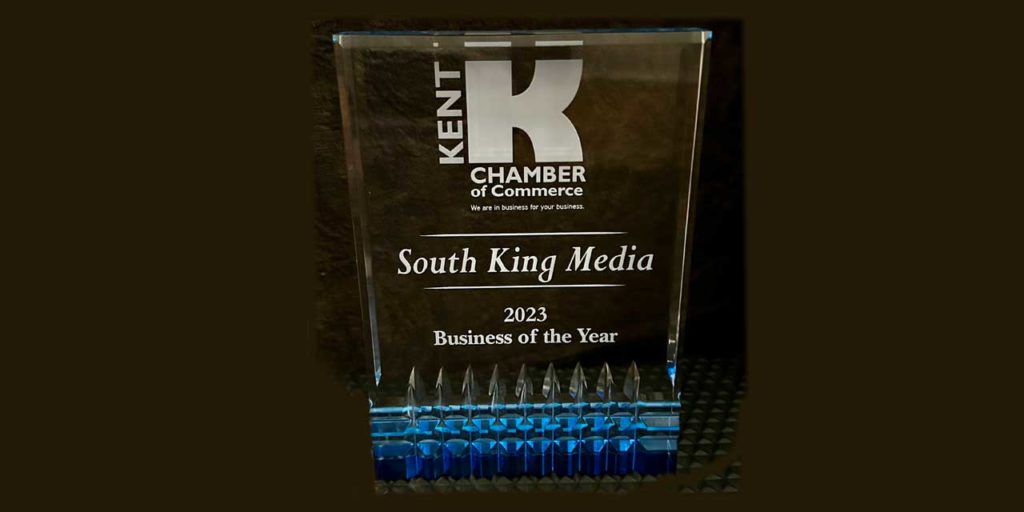 UPDATE SEPT. 22, 2023: We are honored and humbled to have been awarded the 2023 "Business of the Year" by the Kent Chamber of Commerce at their 75th Anniversary Gala held on Sept. 23, 2023!
---
Our Newest Local News Website

UPDATE SUMMER 2023: We have added our eighth local website, The Auburn Examiner! Our local news network now includes Burien, Kent, Auburn, Des Moines, SeaTac, Normandy Park, White Center and Tukwila.
---
Celebrating 15 Years' Publishing Local Journalism
On Jan. 18, 2023, we celebrated the 15th anniversary of our flagship website The B-Town Blog at the Highline Heritage Museum with 125 or so of our readers, advertisers, fellow business owners, friends, supporters and more.
Below is a highlight video of the event, which showcased a new logo, new website and the unveiling of the new Jack Mayne Journalism Scholarship: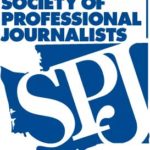 We are proud members of both the Society of Professional Journalists and LION Publishers (Local Independent Online News), and abide by their journalistic codes of ethics.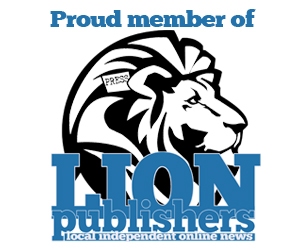 ---
We thoroughly enjoy being deeply engaged with our community via local chambers of commerce, fellow businesspeople, arts and artists, fundraiser events and much more, and we look forward to serving your local Advertising needs!
---
Nicholas Johnson wins Society of Professional Journalists Award
On May 19, 2022, the Society of Professional Journalists honored Nicholas Johnson of The B-Town Blog for Investigative Reporting in the Writing/Small newsrooms category in its 2021 Pacific Northwest Excellence in Journalism Contest.
The SPJ award was for Investigative Reporting in "a single in-depth article that investigates a problem as it relates to a single topic, issue, person or group of people." Johnson's story came in second.
The topic of Johnson's in-depth article published on Sept. 30, 2021 was: "As candidates for Burien City Council canvassed and campaigned in late July ahead of the Aug. 3 primary election, false claims about enhanced services facilities, or ESFs, began to circulate online" and included fact-checking – and correcting – misinformation that was sent out and shared by an anonymous group called "Burien United" and others during the 2021 primary elections.
The competition is one of the largest of its kind in the nation, and honors journalists across SPJ Region 10, which covers five states – Alaska, Washington, Idaho, Montana and Oregon.
Johnson worked for South King Media over most of 2021 (as well as in 2009-11), writing around 70 articles focusing mostly on local politics, elections and more. He now works as Copy Editor/Page Designer for the Everett Herald.
---
2020 "Corporate Citizen of the Year"
We are humbled and honored to have been awarded the 2020 "Corporate Citizen of the Year" award from the Seattle Southside Chamber of Commerce!
---
First Place from Society of Professional Journalists. 
The Society of Professional Journalists honored our B-Town Blog with first place in 'General Excellence' for 2019 over a five state area.
Judges narrowed roughly 1,300 entries down to 250 winners, recognizing reporters, photographers, designers, editors and more throughout the region, which includes five states – Washington and Oregon, as well as Alaska, Idaho and Montana.
This is the third top prize the SPJ has awarded The B-Town Blog over its 12+ year history. 
---
Learn about Founder/Publisher Scott Schaefer's secret past
In June, 2021, legendary Seattle comedy icon Pat Cashman interviewed South King Media's Scott Schaefer about his "secret" past as a comedy writer/director, starting at KING-TV's "Almost Live!" in the mid 1980s:
---
For calendar year 2022*, our networkwide reach was 95,890 Sessions and 258,624 Pageviews per month (*as per Google Analytics).
Our seven local news websites include:
---
71 PERCENT REACH FOR BURIEN
According to a survey conducted for the City of Burien (population ~51,000), The B-Town (Burien) Blog has a reach of 71 percent for the city, and is considered the top news source of respondents: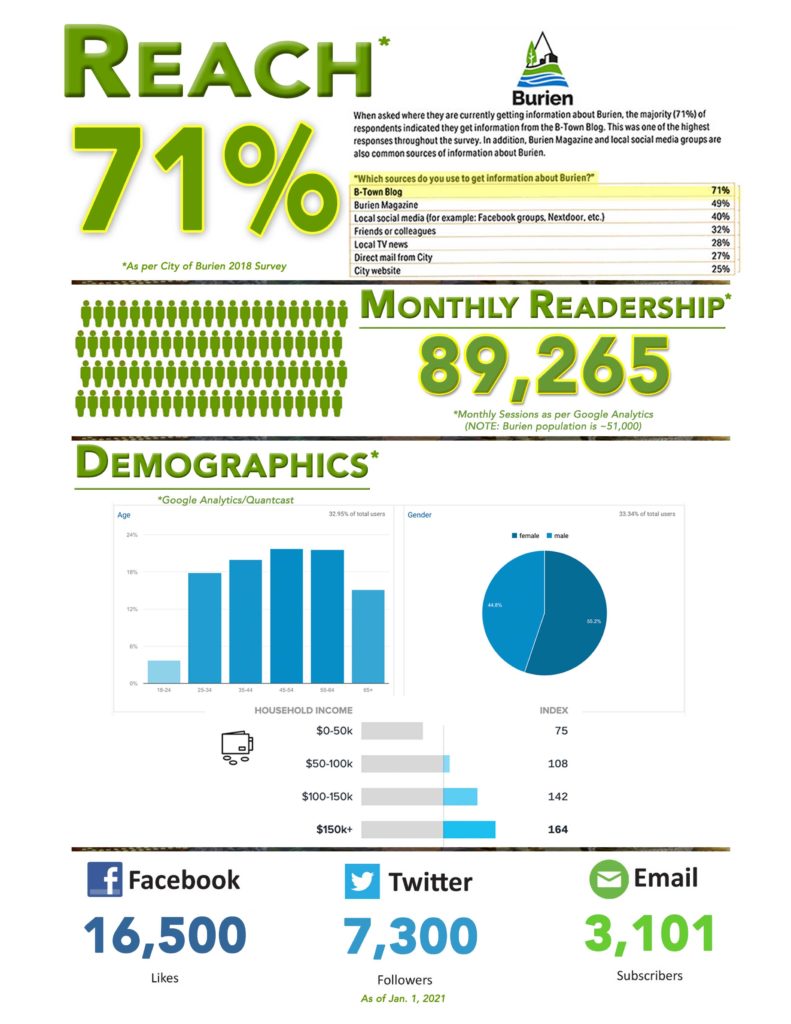 ---
SUPPORT LOCAL JOURNALISM
As local businesses shutter due to the COVID-19 pandemic, sadly they have also laid off employees, shut doors and stopped generating income – deeply hurting our entire region, state, country and well…the entire world!
This has obviously trickled down to us, your leading local online news publishers, with our B-Town Blog ranked by 71% of respondents as the #1 local news source for Burien in a 2018 city survey. You may have seen announcements from other news organizations in our area stating closure of print operations and layoffs of employees. The good news is, we have always been 100% digital, keeping our operating costs low, while continually striving to provide the local news that you will not find elsewhere.
And we vow to keep doing so, no matter what happens.
If you value our local journalism, please consider supporting us at a level that makes sense for you. We have partnered with PressPatron to make it easy for you to contribute on a monthly basis, or a simple one time donation. Whatever amount or frequency you choose (even a one-time, one-buck donation helps!), it's all good, and it will help us keep our pixels updating with the most current and relevant hyperlocal coverage of south King County news, politics, arts, business, crime, COVID-19 news, events and more.
Thanks in advance for whatever you can afford to help!
#COVID19 is impacting businesses across our state, including local newspapers. But the work of journalists bringing us timely, accurate information is more important than ever.

If you can, please consider becoming a subscriber to your hometown paper or supporting local radio.

— Jay Inslee (@JayInslee) April 8, 2020
---
LIVE FACEBOOK & ZOOM VIDEOS
We also produce LIVE video feeds – including Zoom events – for both South King Media as well as the following clients:
Seattle Southside Chamber of Commerce
Kent Chamber of Commerce
Discover Burien
Kent Downtown Partnership
Black Education Strategy Roundtable (BESR)
These live videos have all been shot, produced and directed by multiple Emmy Award winner ("Bill Nye the Science Guy") and South King Media Founder/Publisher Scott Schaefer, utilizing his 34+ years' experience in TV/film/media – including as an experienced Field Director in Hollywood and active member of the Directors Guild of America, where he was nominated for an award for his Directing on the Showtime series "Penn & Teller: Bullsh*t!"
Using the latest technology, Scott is able to single-handedly create professional live HD video feeds that look like multi-camera shoots, or dynamic POV tours on a Steadicam.
Schaefer also recently Directed & Produced the award-winning short film "The Maury Island Incident," which can be viewed online here.
---
SEATTLE BUSINESS MAGAZINE
In late August, 2018, South King Media was profiled by Seattle Business Magazine – read the full story here
---
To learn more about Founder/Publisher Scott Schaefer:
To learn more about our awesome Advertising solutions, please email Theresa Schaefer at vtheresa@comcast.net, or call our office at ‪(206) 659-1282‬.